Guns N' Roses Announces Only Concert Date Of 2019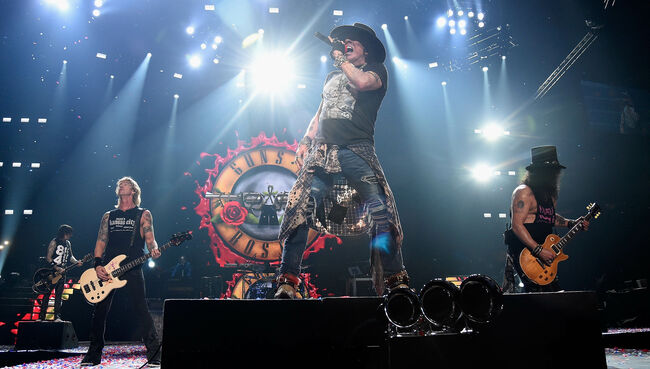 Guns N' Roses has announced its first and, at this time, only concert of the year.
The band has been confirmed for the returning Louder Than Life festival on Saturday, September 28, at the Highland Festival Grounds at KY Expo Center.
GNR's "Not In This Lifetime" tour lineup will take the stage on the second night of the three-day affair, which runs September 27 - 29. The legendary hard rock band is the first act announced for the festival. It is also set to be Guns N' Roses' first show since a December 8, 2018, gig in Hawaii.
"There are only a handful of bands through the years whose music not only resonates with fans, but changes the entire face of rock 'n' roll. Guns N' Roses is one of those true icons," said festival producer Danny Wimmer via a statement. "Every year we want to come back bigger and better, and we can't wait to welcome, Axl [Rose], Slash, Duff [McKagan] and the rest of GN'R to the Louder Than Life stage."
Tickets to the festival go on sale at 9 a.m. ET on Monday, April 8. That's also the day the full festival lineup will be unveiled.
While Guns N' Roses's hasn't been playing shows this year, it's an intriguing time for the band, which by all accounts has agreed to move forward and make new music.
Slash is booked on a solo tour, supporting his latest album with Myles Kennedy and the Conspirators through August. McKagan is preparing the release of a new solo album, Tenderness, on May 31. His own solo tour runs from late-May through mid-June.
It stands to reason that Guns N' Roses would continue workshopping its new material this fall.
Keep up with Guns N' Roses' live schedule here.
Photo: Getty Images

Maria Milito
ON AIR: Weekdays 9AM-2PM. Maria Milito, a native New Yorker, has been heard on Q104.3 since 1996 playing your Beatles and Workforce Blocks!
Read more