Nikki Sixx Explains Why He And Tommy Lee Were Perfect For Each Other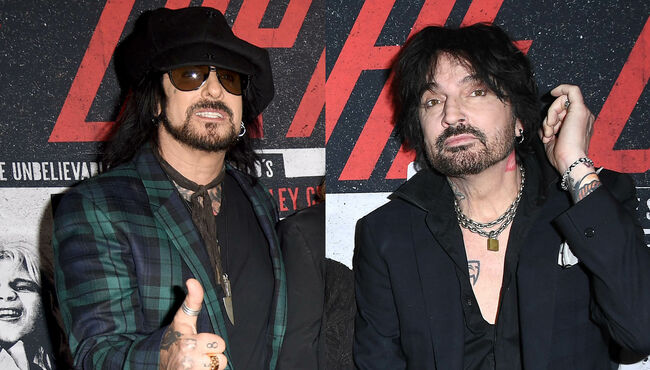 A plan is just an idea without somebody to put it into action, and that's part of the reason why Mötley Crüe band mates Nikki Sixx and Tommy Lee were perfect partners in both the band's rhythm section and its extra curricular activities.
As fans can see in the Mötley Crüe band biopic The Dirt, which is streaming now on Netflix, Sixx and Lee became fast friends after first meeting in 1981 and have remained close throughout most of their lives since.
Sixx and Lee recently explained their mutual affection in an interview with Eddie Trunk.
"There was absolutely darkness and lightness," Sixx recalled of the pair's early chemistry, his own part of the equation being the 'darkness.' "We were drawn to each other because of that. I would come up with the idea how to get the TV out the window and then Tommy would throw the TV out the window. We worked well together, but my hands were clean."
Sixx and Lee's childhoods were about as different as it gets, but their yin and yang personalities and mutual love of the chaos of rock and roll forged a strong, successful bond.
"His personality is very outgoing; he loves everything; he's quick to fall in love with stuff; we just see things differently, and that's part of the magic," Sixx continued. "Even in our musicianship, Tommy plays more fills, more grooves inside the groove, and I like to play it straight down the middle, just like AC/DC, just like the [Sex] Pistols..."
Mötley Crüe did a lot of damage in its career, in part because Sixx and Lee. When asked whether a scene in The Dirt in which the band throws a television from a hotel room onto a parked car below happened in real life, Sixx related a story in which the band threw all the furniture out of a hotel room in Germany.
"You've got to have a target, right?" Lee replied. "It'd be pointless just to throw a TV out the window. 'Yeah, there's a f---in' Mercedes! Kill it!'"
Photos: Getty Images

Maria Milito
ON AIR: Weekdays 9AM-2PM. Maria Milito, a native New Yorker, has been heard on Q104.3 since 1996 playing your Beatles and Workforce Blocks!
Read more